A Sparkly Wrap Can Solve Your Evening-Wear Dilemmas
23 October 2019
As winter draws closer and events start to fill up our diaries, the question of what to wear can become a weekly dilemma.
From cocktail parties to winter weddings, receiving an evening invite can feel every bit as daunting as it is exciting. But no matter how tricky the dress code, a shimmery cashmere wrap or sparkly evening shawl can help.
After-dark dressing always calls for a little sparkle, but a rose gold shimmery evening shawl or black sequin wrap does more than give you instant glow. It can add interest to a little black dress, make a daring jumpsuit less revealing and provide the perfect showcase to any floor-skimming gown.
A sumptuous cashmere evening wrap is a real fashion saviour whatever's on your winter social calendar this year. So are you ready to find your partywear match made in heaven? It's time to shine…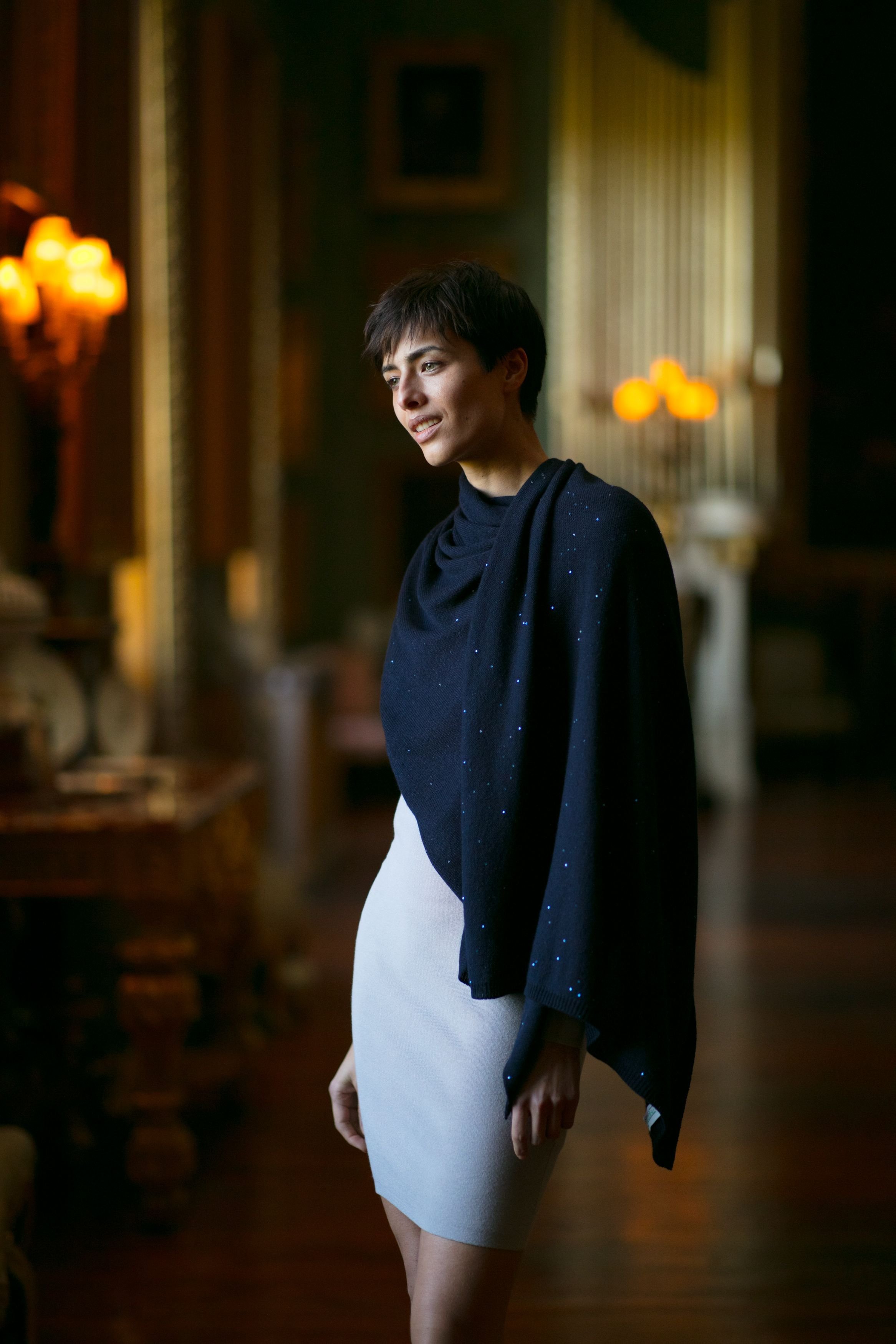 White Tie
It may be the most formal of all occasion-wear dress codes, but at least you know exactly what's expected. For men, white tie means a tailcoat worn with a white wing-collar shirt. For women, it calls for a floor-length formal gown with the option of gloves and hair swept into an up-do.
Of course, most of your pre-party efforts will be put into searching for your show-stopping dress. But finding the right outerwear is equally as important, as the wrong coat could spoil your look as you make your grand entrance.
A cashmere evening shawl feels luxuriously warm, looks effortlessly elegant and won't hide an inch of your stunning gown. For the perfect white tie look, embrace your inner Grace Kelly by draping your sequin evening wrap loosely around your shoulders and allowing it to fall gently into the creases of your elbows.
When it comes to colour, matching your evening shawl to your accessories is key. For something a little different, why not choose rose gold jewellery and pair with a rose gold shimmery shawl? Our Symphony cashmere wrap is interwoven with a delicate rose gold shimmery yarn that will give your formal gown an eye-catching sparkle.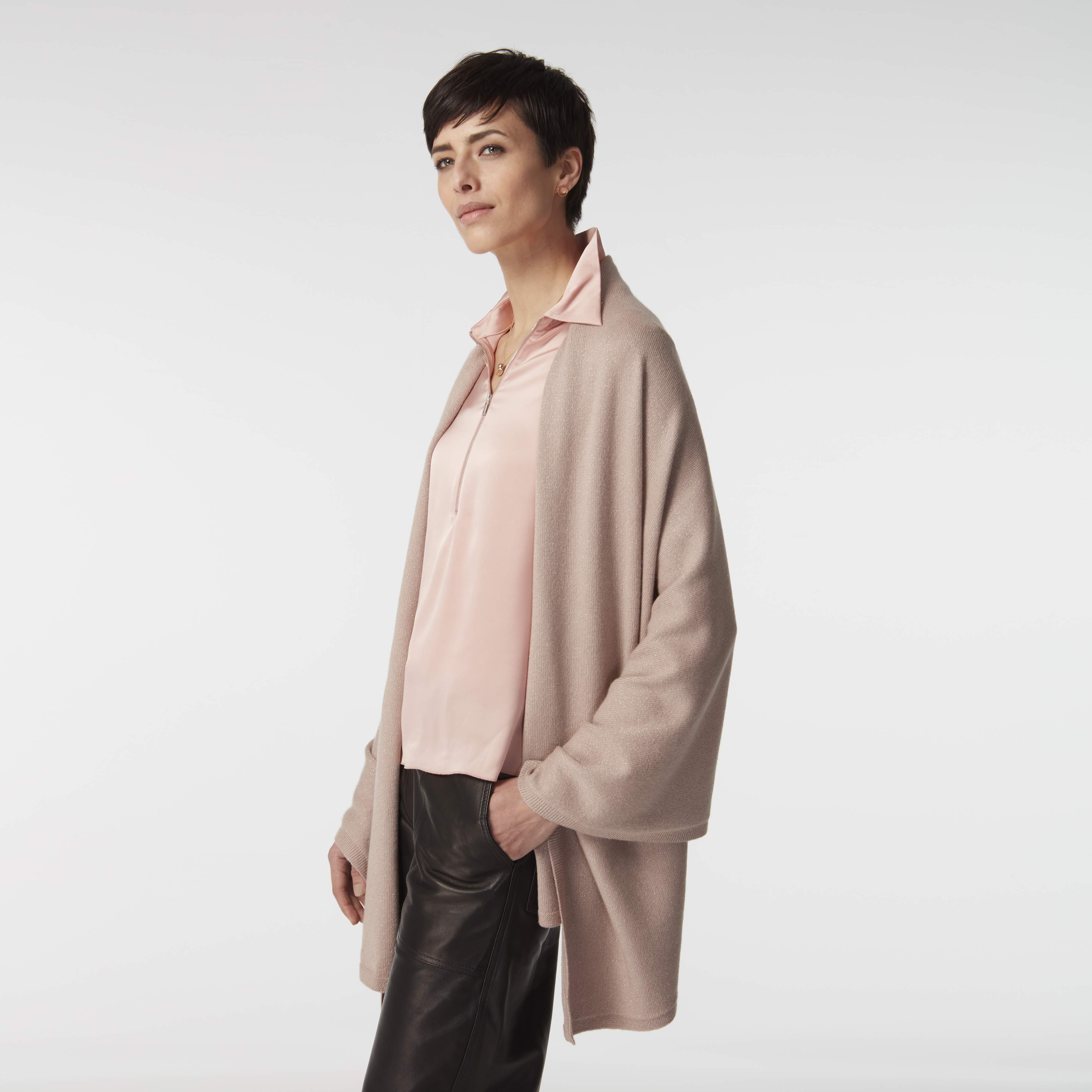 Black Tie
The second most formal dress code, black tie means tuxedos for the men. But for women, this kind of invite can be more ambiguous. Cocktail dresses and full-length gowns are the norm, but there are always exceptions. If this year's Oscars was anything to go by, chic trouser suits are also black-tie friendly.
If you've chosen to wear a cocktail dress for a black tie event, the danger is you'll look too casual if everyone else has opted for red carpet-skimming gowns. To avoid this, keep the colour of your cocktail dress rich, the silhouette structured and the hemline at the knee.
Adding some shimmer with a sparkly evening shawl worn as a shrug can also dress up simple styles. To achieve this evening-wear look, put the sequin evening wrap across your shoulders before tying the ends in a simple knot behind your back.
If your dress is bright, choosing a black sparkly shawl means you won't have to spend hours hunting for the perfect colour-matched jacket.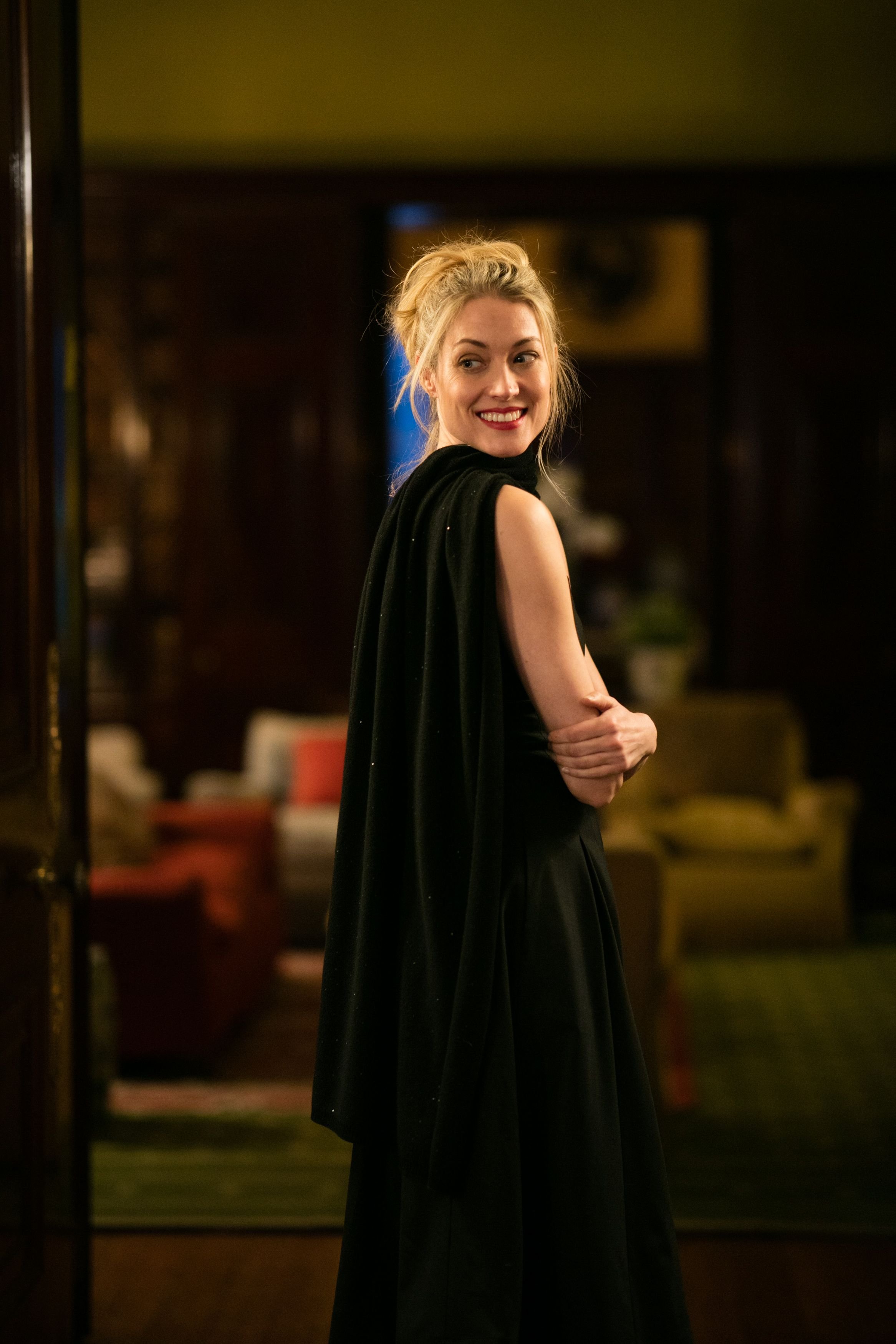 Semi-Formal
When a winter wedding calls for semi-formal attire, it can be difficult to find that sweet spot between being under or over-dressed. A cocktail dress is always acceptable and this time you can go for something with an asymmetric or above-the-knee hemline.
But why not show off your fashion credentials with a smart silver jumpsuit instead? Every bit as elegant as a dress, jumpsuits are far more comfortable and can be dressed up or down according to the accessories you choose.
Wearing a matching sparkly silver or white evening shawl draped over your shoulders will add even more glow to a glamorous winter wedding look. Our shimmery cashmere evening shawls are all interwoven with a soft, glimmering yarn in the weave to catch the light. But while they're sparkly, the 3-ply cashmere will also keep you warm and safely under wraps while the bride and groom are saying their vows.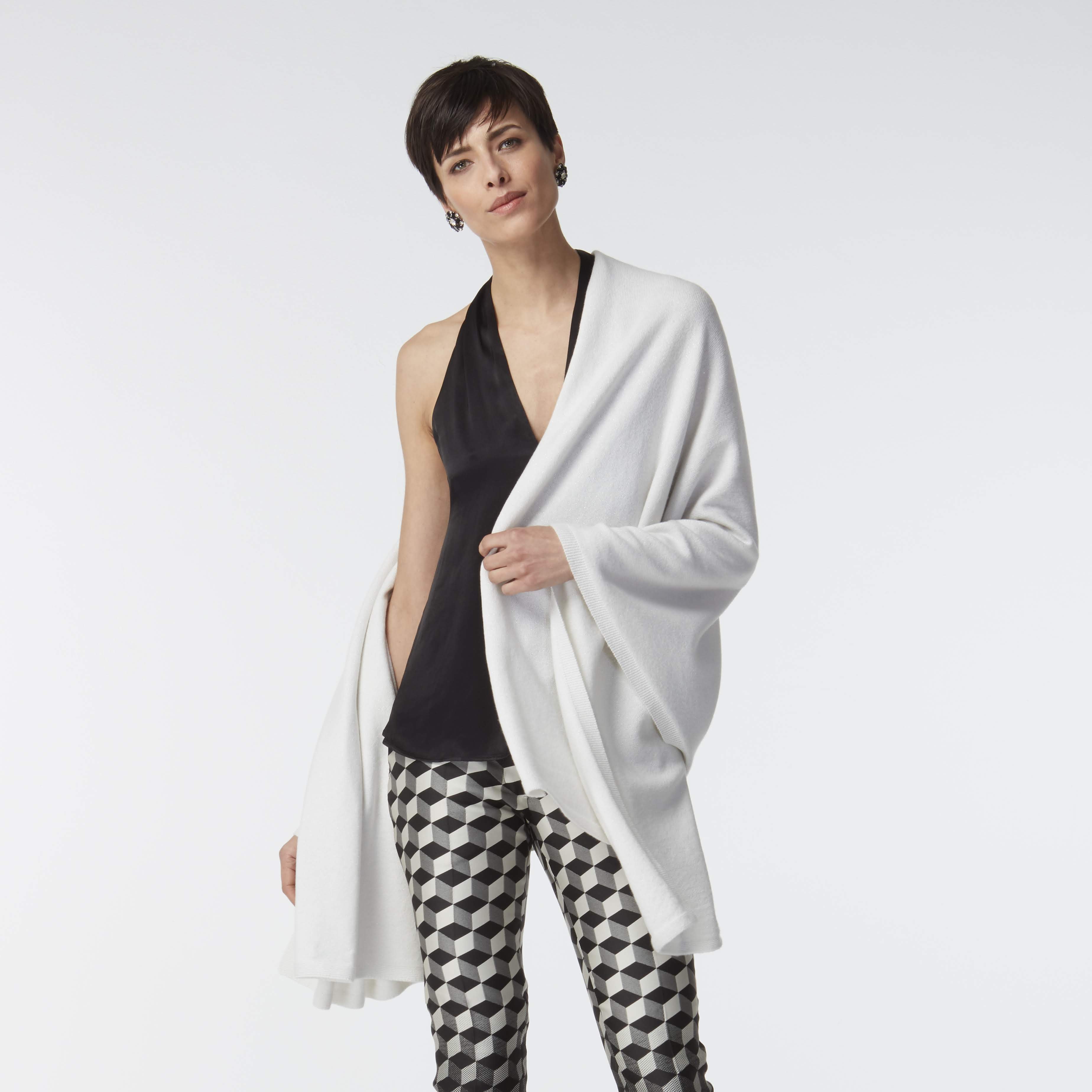 Business Attire
When it comes to an evening work function, you'll always look appropriately dressed if you keep to your normal office dress code. If you work in a conservative environment, you should dress conservatively for business events, too.
 A fitted dress, a wrap dress or a sharp tailored suit worn with a feminine blouse would all work well. Stick to muted shades but don't be afraid to be bold with your accessories. Choose a chunky necklace or boots with a high heel.
Adding a sequin shawl or wrap can also elevate your normal nine-to-five attire into something more evening-appropriate. Wearing a sharp black blazer with a nude pink sequin shawl like Moondust will take you straight from the boardroom to the business gala. To style, pick up the wrap at one corner, allowing it to drape down. The place the wrap over your blazer allowing both ends to hang equally, for a glamorous business look.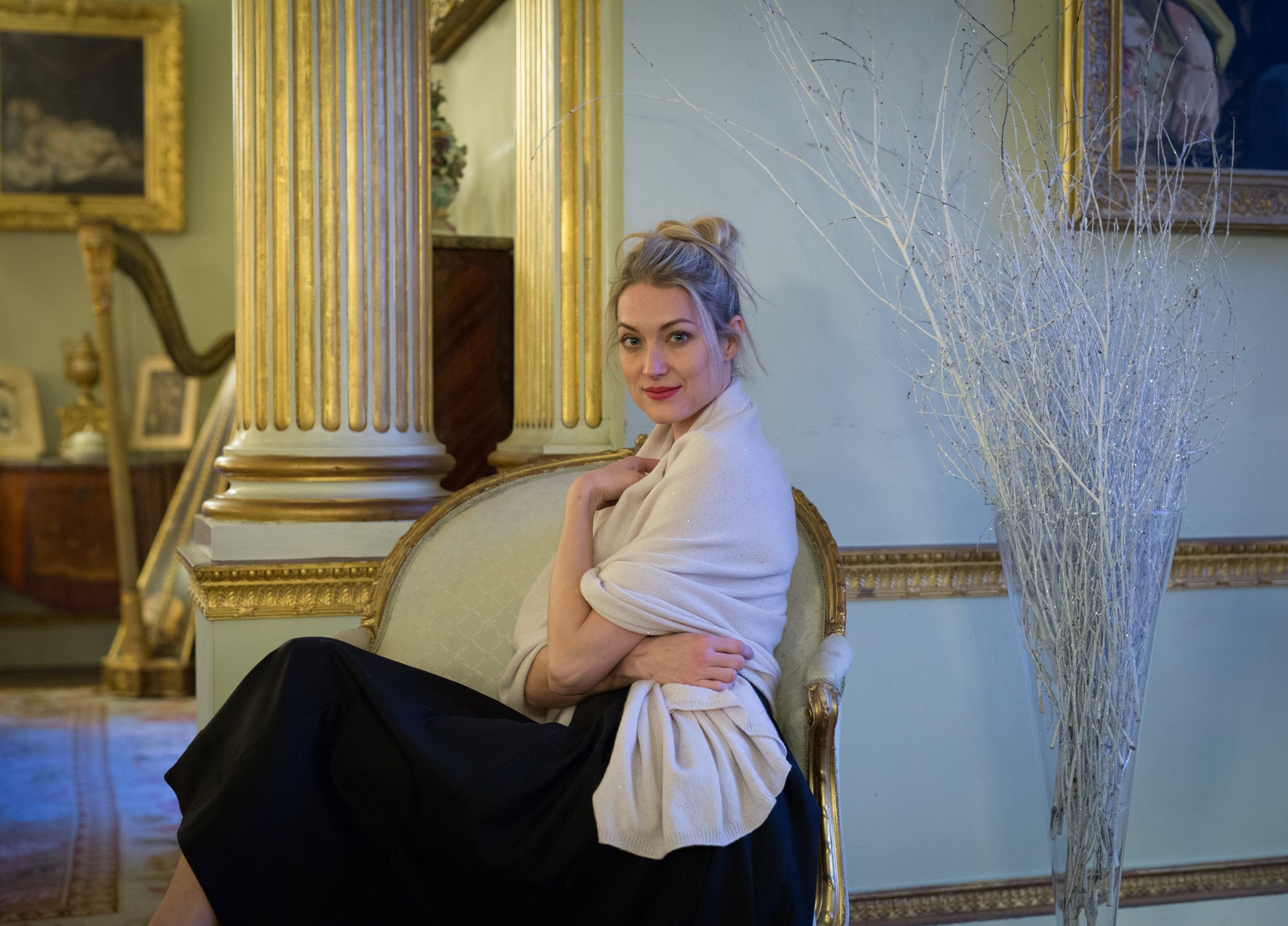 Our Shimmer or Sparkle cashmere sequin wraps and shawls can really help you shine this winter. Or shop all of our women's cashmere shawls or men's blanket scarves.