Check in and skate
7 January 2019
I love ice skating so my heart lifts whenever I stay at a hotel with its own rink. A surprising number have them these days, and not always where you might expect.
This, for example, is the rink at Hotel del Coronado in sunny San Diego. Overlooking the Pacific, the unlikely beachfront rink is an annual event, running between Thanksgiving and the first weekend in January. It's expensive – this season is was $30 per person – but proceeds go to Make-A-Wish San Diego.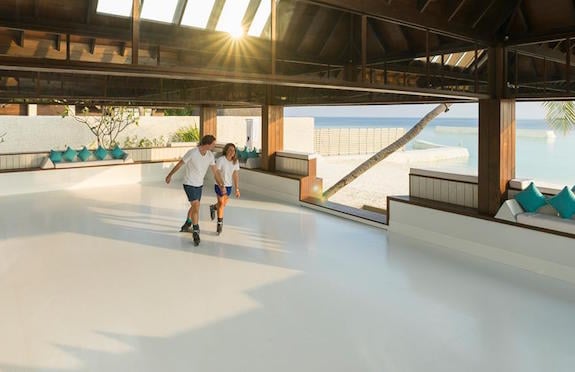 If an ice rink in San Diego is unlikely what about this one at Jumeirah Vittaveli in the Maldives? We mentioned it when it opened last year, the first (and only) ice rink in the islands. It's made from synthetic ice plates and because there's no water involved, it doesn't require energy to keep it frozen. It's even more expensive than the Hotel del Coronado at $75 per person.
A rink in a French ski resort wouldn't be that surprising, but at a luxury hotel in Paris? It's true: Hôtel Plaza Athénée turns its inner courtyard into a tiny ice rink during the holiday season. It's a magical place for children to learn and it's free to guests.
The Sky Rink at the Chicago Peninsula is the only hotel ice rink in the city, with a cute little chalet providing hot chocolate, hot cider and snacks. It's open from mid-November to the first week of March and all proceeds from skate rental ($20 per person) are donated to two Chicago children's charities: Ann & Robert H Lurie Children's Hospital of Chicago and Hephzibah Children's Association.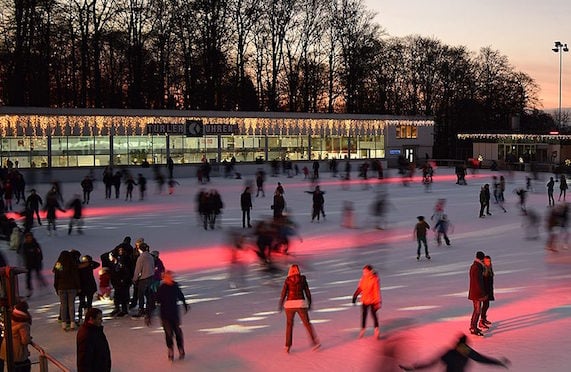 You'd expect a Swiss hotel to have a decent ice rink and high above Zurich, right next door to Zurich's Dolder Grand Hotel, is one of the finest in Europe. Built in 1930, the 6,000 sq m rink is open from the beginning of October until the beginning of March and entrance costs CHF 8, including skate hire.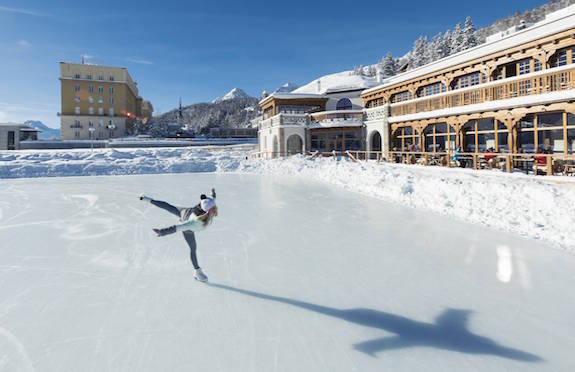 But the ice rink at the Kulm Country Club in the grounds of the Kulm Hotel in St Moritz tops them all. As you glide across the perfectly groomed ice you'll be following in the tracks of the great Sonja Henie, who won her first Olympic Gold here in 1928. The rink has recently been given a much-needed facelift, part of a multi-million pound refurbishment and extension overseen by British architect Lord Foster. Admission is CHF 12, with skate hire CHF 10.