How To Wear A Men's Blanket Scarf
4 October 2019
One of the greatest joys of the winter season? It has to be the layers of cashmere the cold weather brings to our wardrobes. An oversized cashmere blanket scarf is a real men's winter essential, but it's more than just a luxurious way to keep out the cold. Layering a wide scarf can add sartorial flair to any outfit, livening up a suit, adding interest to a winter coat or softening the hard lines of a leather jacket. In fact, learning how to wear an oversized scarf for men can give you several looks in one, effortlessly taking you from brunch to boardroom to bar. But how do you tie one without recreating the infamous Lenny Kravitz scarf moment? Find out in our guide.
How to wear a men's blanket scarf with a leather jacket
Nothing works better with the slim fit of a leather jacket than an oversized scarf worn in a Parisian knot. But the scarf performs more fashion heavy-lifting than just balancing the look of your silhouette. Adding cashmere to leather instantly softens the entire ensemble, letting you go as manly as you please on your bottom half (think slim black jeans or heavy boots).
Not sure what colour to choose? If your leather jacket is black, going for a slightly lighter shade works well. Pairing black leather with a charcoal grey cashmere oversized scarf, like our Falcon Grey travel wrap, will always look chic.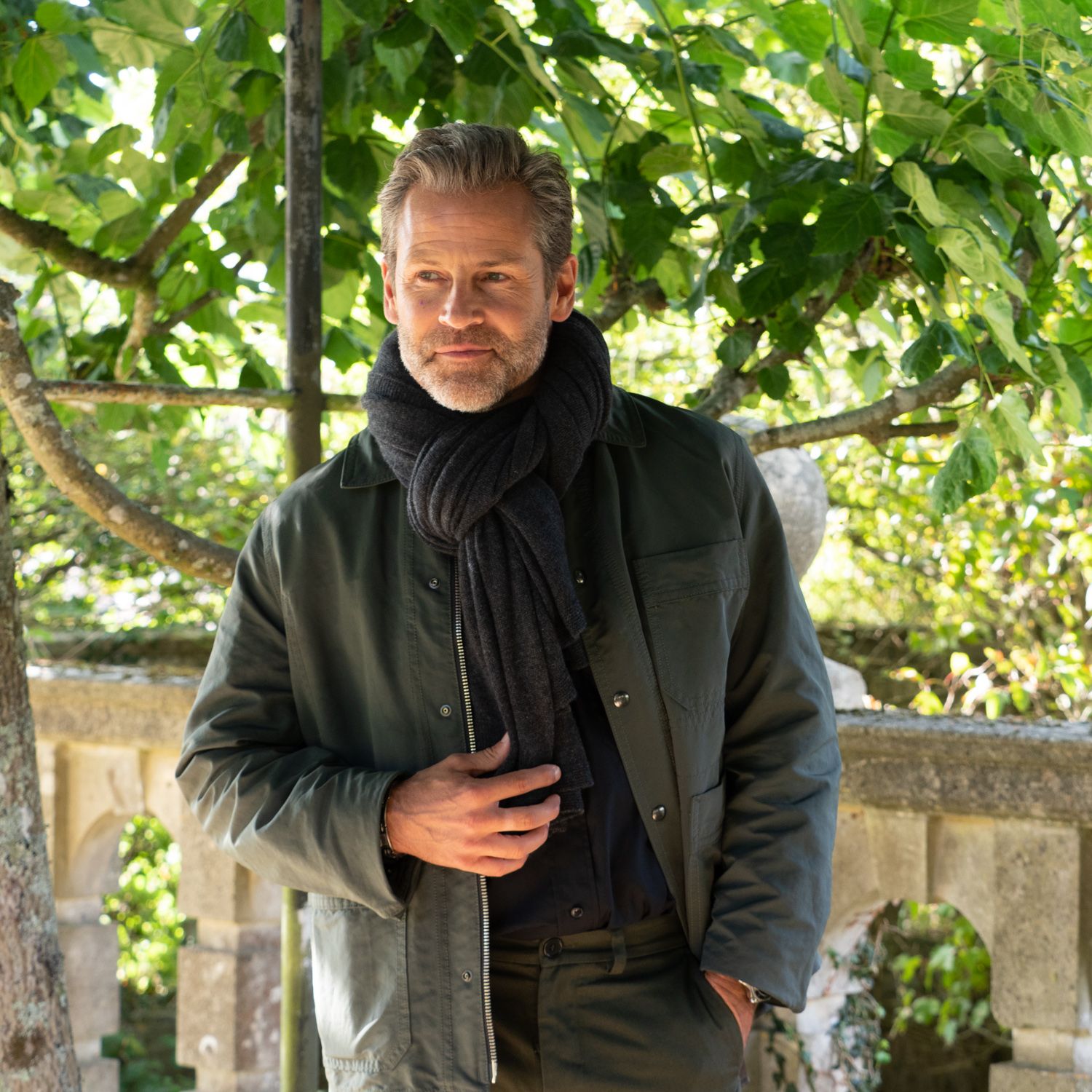 How to tie a large cashmere scarf in a Parisian knot
To make the perfect Parisian knot to go with your leather jacket, fold a large men's scarf in half lengthways and drape it around your neck. Take the two loose ends and pull them back through the loop.
How to wear an oversized scarf with a men's suit
A great suit will always make you feel confident and well put together. But if a two-piece is an essential part of your office dress code, you won't get too many chances to flex your own personal style. An oversized, large cashmere scarf can change all that.
With so many different ways to wrap and tie it, you can choose to dress your suit up or down. Plus it will add a welcome touch of luxury and warmth to your cold commute. Of course, the way you wear your winter scarf will depend on whether you're heading out to meet a client or going for a casual lunch with a colleague. The best strategy for office wear is to keep the wrap understated. Do this by choosing a muted, neutral shade (such as our Herringbone Hawk men's cashmere shawl) and tying it simply and neatly.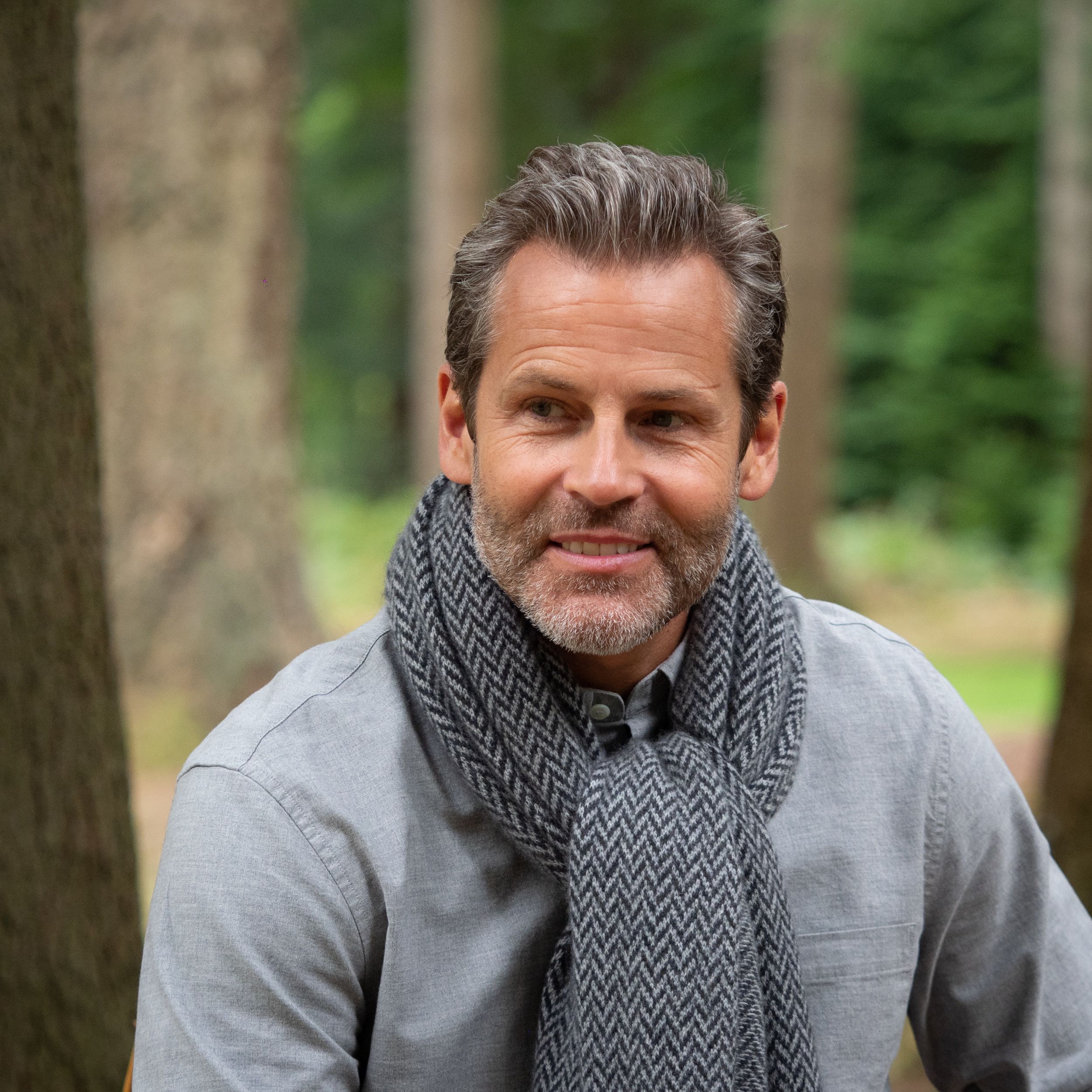 How to tie an oversized cashmere scarf for a suit
The overhand tie style works well with a suit. To achieve it, drape the wide winter scarf around your neck, keeping one end long and the other short. Then, as if you were starting to tie a necktie, wrap the long end around the short end before taking it over the top to complete your office-friendly look.
How to wear a winter scarf with a coat
When it comes to how to wear a long scarf, men can learn a lot of valuable lessons from 'that' Lenny Kravitz giant scarf moment. The photo of the singer wearing a huge blanket scarf with his winter coat inspired a thousand memes, but it also taught us certain golden rules – choose lightweight cashmere over a bulky knit, avoid embellishments like tassels and always opt for neutral colours like the pictured Falcon Grey men's cashmere shawl. How you wear a scarf with an overcoat depends very much on the cut of your coat and the style you want to achieve. A casual, 'just fell that way' loop will dress down a smart peacoat, while leaving a long scarf undone looks smart under the lapels of a trench or a formal overcoat.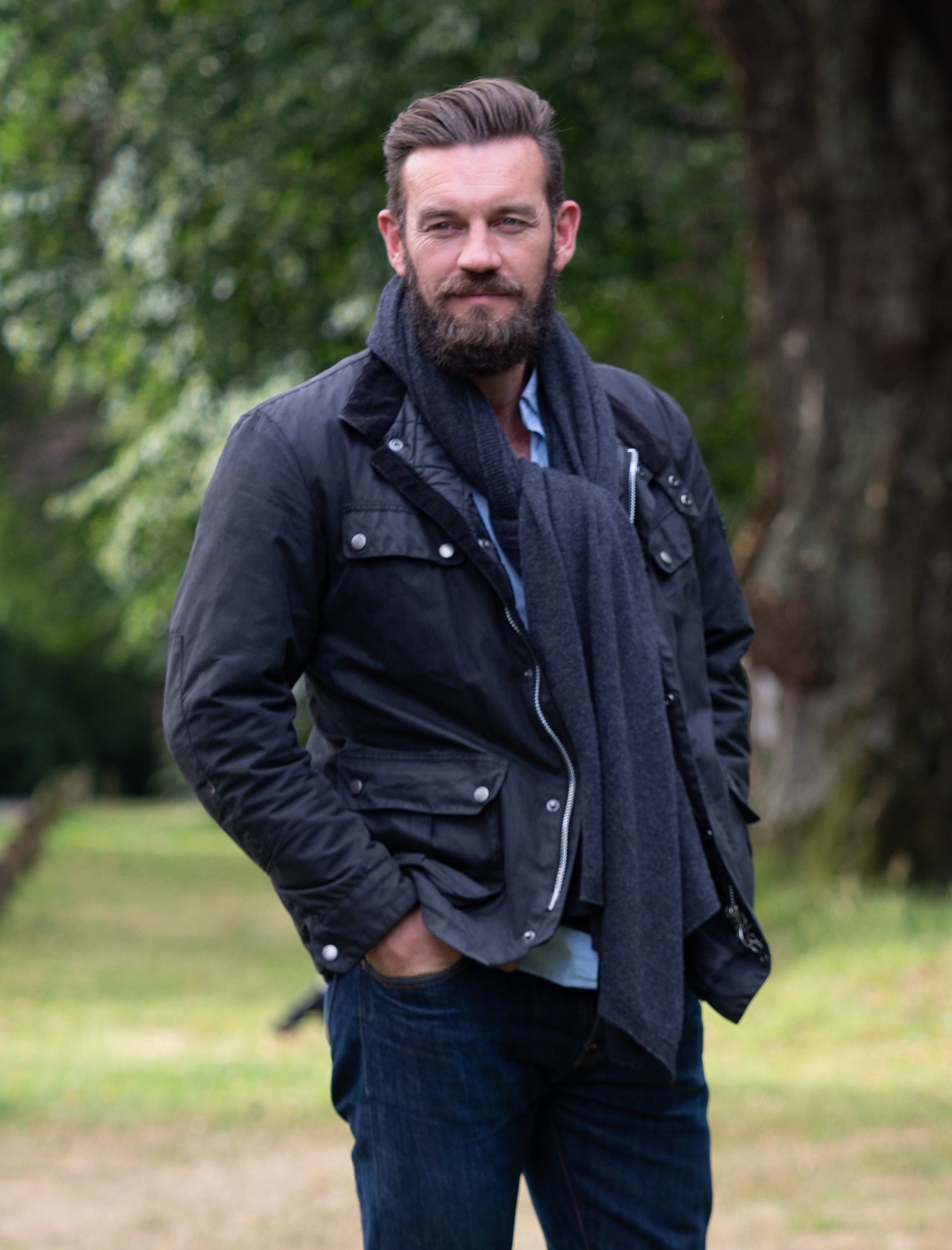 How to tie an oversized blanket scarf with a winter coat
To wear your blanket scarf with a waxed winter coat like our model, roll it widthways to keep it narrow and drape it around your neck so that one end is left longer than the other. Then take the long end over the short end and thread it up the back, leaving the knot very loose.
How to wear an oversized blanket scarf with a denim jacket
When it comes to casual outfits, a denim jacket worn with a simple white T-shirt is king. But what do you do when the temperature starts to plummet? Pairing your jacket with a sumptuous cashmere blanket scarf means it won't have to be packed away for a winter hibernation, along with the rest of your summer clothes. Using the luxurious texture in a casually draped style can soften the utilitarian look of this menswear staple.
So keep your ties loose and leave the ends long for the ultimate nonchalant look. When it comes to colour, striking contrasts, such as a dark blue denim jacket worn with a silver-grey cashmere scarf, work really well.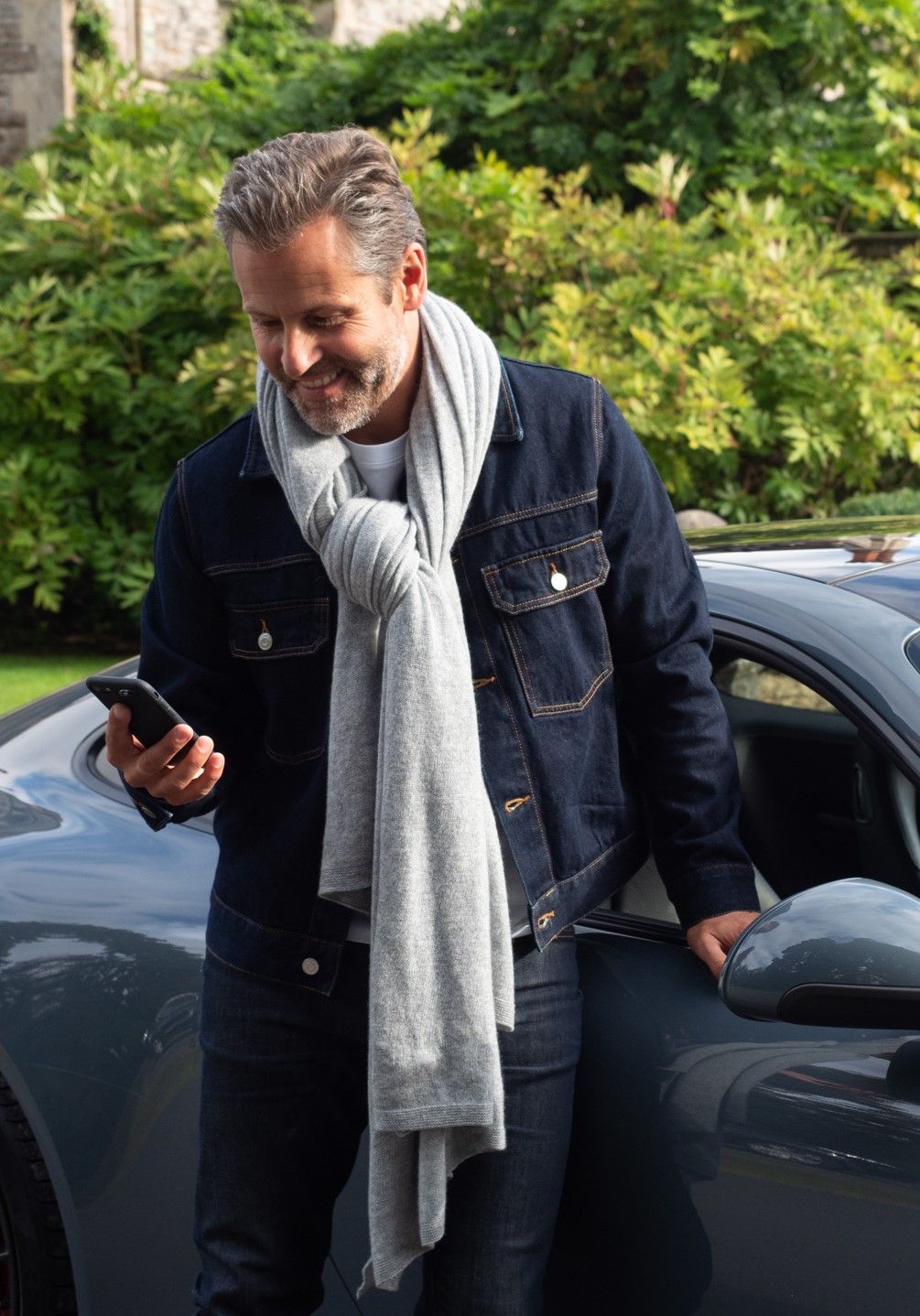 How to tie an oversized scarf with a denim jacket
Keep your denim jacket looking casual and contemporary by draping it evenly around your neck and tying one end over the other, leaving you with mismatched lengths on each side. Leave the knot loose.
How to wear a men's oversized blanket scarf with a gilet
We all make fashion compromises when the weather turns wintery, but wearing a gilet with a men's cashmere scarf like our navy blue cashmere Blue Heron blanket scarf, can really protect your style from the cold. Smart, but not too smart, gilets can be worn under jackets or on their own. But the addition of cashmere adds much more visual interest, turning a simple, padded gilet into something really special.
Take your inspiration from Italian fashion by colour-matching your cashmere scarf to your gilet. And tying it in a wrap-and-tuck style will give your gilet a preppy twist.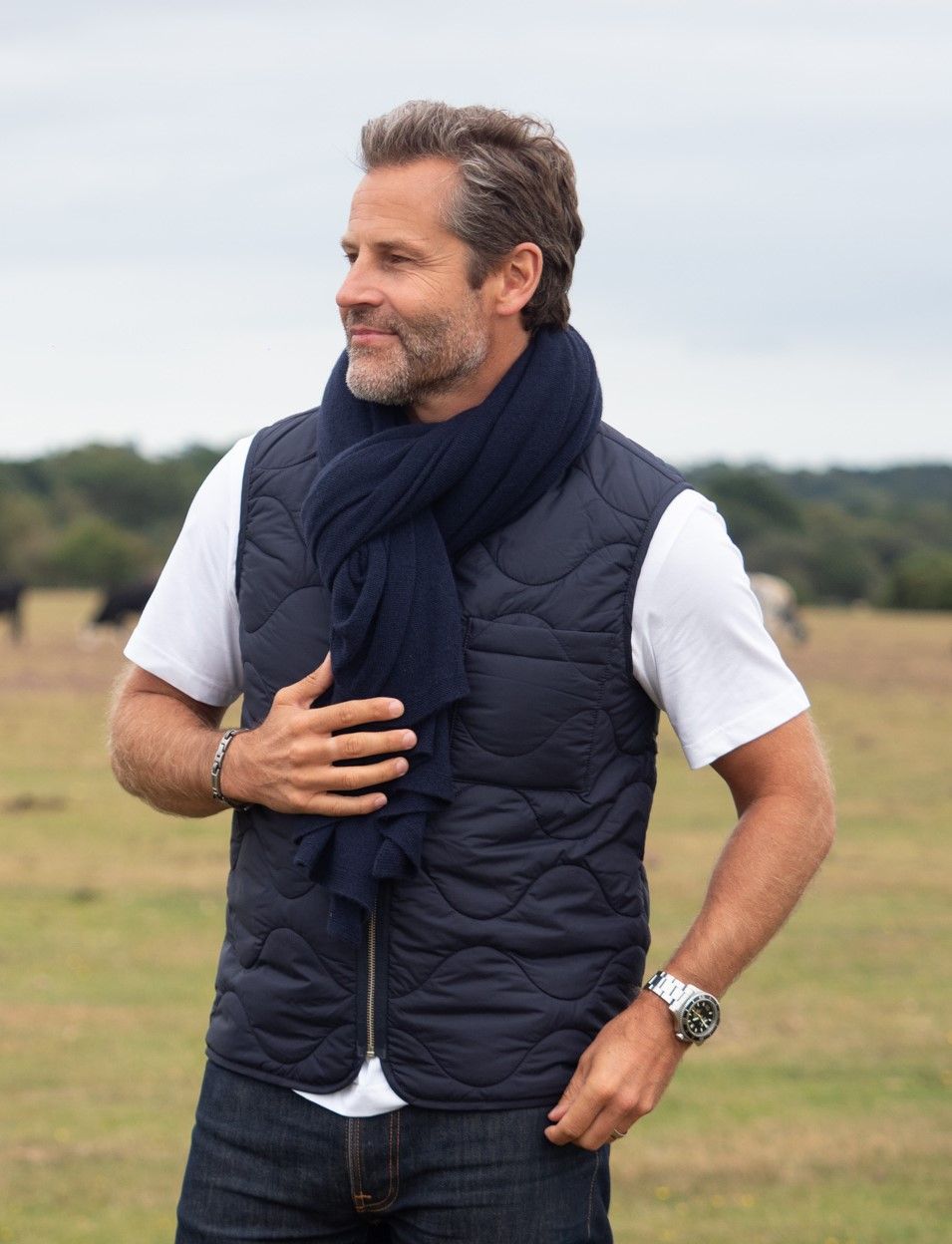 How to tie an oversized scarf with a gilet
The Parisian knot works well with a gilet, so fold your blanket scarf in half lengthways and hang it around your neck. Pull the two loose ends back through the loop you made, and secure the knot close to your neck.
Take a look at all our men's oversized cashmere blanket scarves, wraps and cashmere scarves.