Look north this winter
13 October 2016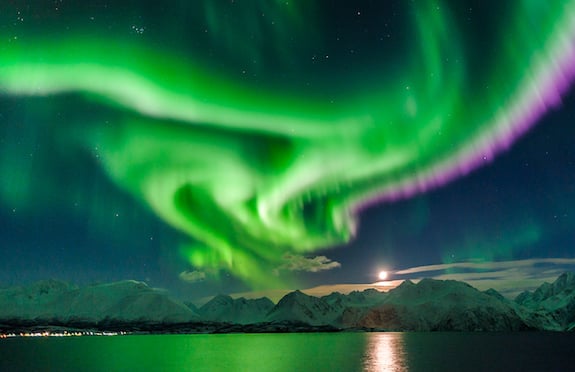 ©visitnorway.com
We're officially in Northern Lights season, so if this spectacular phenomenon is on your bucket list, you've got until March to head north. To inspire you, we've selected some of the best packages available in 2016/2017. And yes, you will definitely be needing your Travelwrap…
Svalbard, Norway
Visit Norway's website has masses of information on trips combining the Northern Lights with all sorts of outdoor activities. One of the best places to see the Aurora Borealis is the Svalbard archipelago – during the polar night (between November and February) the lights may even make an appearance in the middle of the day. Take a look at Spitsbergen Travel's Polar Night trip which offers a dog sledding safari, a sightseeing tour and three nights at the Radisson Blu Polar Hotel in Spitsbergen. From around £306 per person, excluding flights.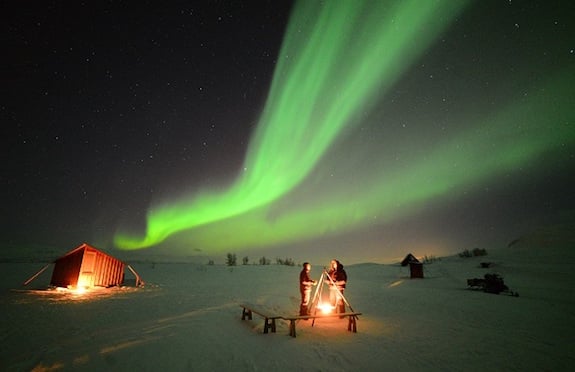 ©offthemaptravel.co.uk
Off the Map Travel specialises in Northern Lights packages in Scandinavia, Greenland and Canada. There's plenty of choice, including a new VIP Aurora Borealis Tour, a chance to see the spectacular phenomenon in luxury, staying at the finest lodge in Swedish Lapland. The tour, available between December 2016 and March 2017, is tailor-made for each guest and offers dogsled driving, ice fishing, ice carving, reindeer sledding, snowshoe trekking, a snowmobile safari, a private Sami reindeer experience, and a private tour of the legendary ICEHOTEL Price varies; December 2016-March 2017.
Arctic Explorer, Russia
This is the trip we're all hankering after at Travelwrap Towers: a 12-day itinerary which includes stays in St Petersburg and Moscow and a romantic train journey aboard the luxurious Golden Eagle across the Russian and Norwegian Arctic Circle in pursuit of the Aurora Borealis, plus lots more treats along the way. The next trip is 29 December-9 January and costs from £7,995 per person.
©Frontiersnorth.com
RAW: Churchill, Manitoba, Canada
RAW: Churchill is a pop-up restaurant in Prince of Wales Fort, built by the Hudson's Bay Company in the 1700s. Diners are transferred from Churchill via Tundra Buggy, a vehicle used for polar bear viewing, and after a four-course gourmet dinner prepared by Chef Mandel Hitzer, guests reboard the buggy and travel along the frozen Churchill River to view the Northern Lights. RAW has a transparent roof so that if the light show begins before you've finished your pudding, you won't miss a thing. From CAD$250, March 3-12, 2017. Early reservations advised.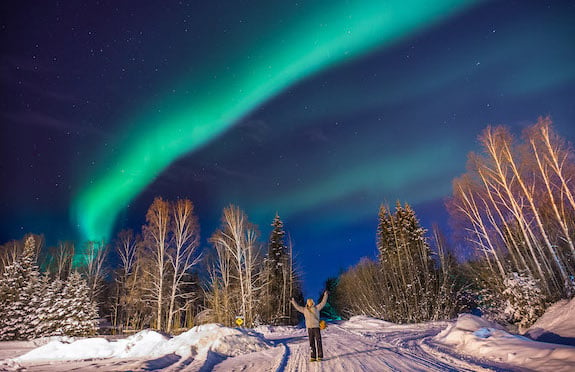 ©Gondwanaecotours.com
Northern Lights Ecotour, Alaska, US
Gondwana EcoTours has a six-day Northern Lights Ecotour which offers the chance to photograph the Aurora Borealis under the massive Alaskan sky. Highlights of the tour include dogsledding through snowy forests, hiking with a family of reindeer, curling lessons in Fairbanks, soaking in the geothermal Chena Hot Springs, snowshoeing on private land, and exploring the Ice Sculpture Museum. A portion of the proceeds from Gondwana's Northern Lights Alaskan Adventure trips will be donated to the non-profit Northern Alaska Environmental Center. From US$2,345.
BY MAGGIE O'SULLIVAN