LINKS AND LUXURY AT THE OITAVOS, PORTUGAL by Maggie O'Sullivan
25 September 2014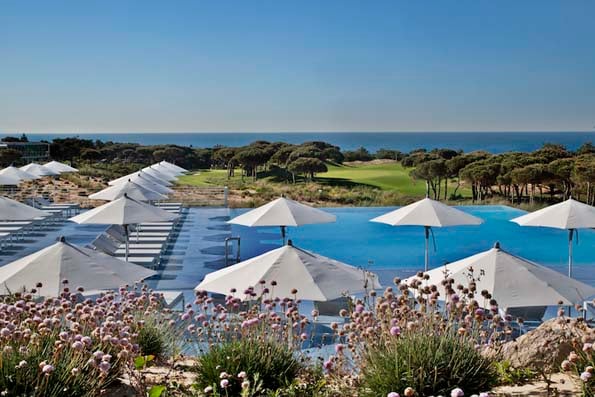 Oitavos Dunes is a top 100-listed, 18-hole links course set among dune grasses and stone pines on Portugal's Atlantic coast. Golf Magazine ranks the course the 65th best in the world, and the second best in mainland Europe. But there's another reason for visiting this idyllic corner of Portugal, and it has nothing to do with little white balls or leary trousers.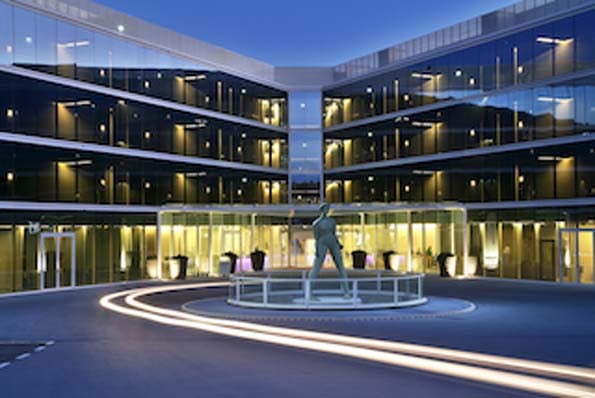 At the centre of Oitavos Dunes is a luxury hotel. It's not your typical golf hotel. It's not even your typical hotel. There are plenty of those farther along the coast in the pretty seaside town of Cascais. No, this is a sleek, modern construction of glass and steel – all sharp angles and straight lines. In fact, it looks more like an art gallery than a five-star hotel. But five-star hotel it most definitely is, with 146 spacious rooms, a selection of top-notch restaurants and a large spa.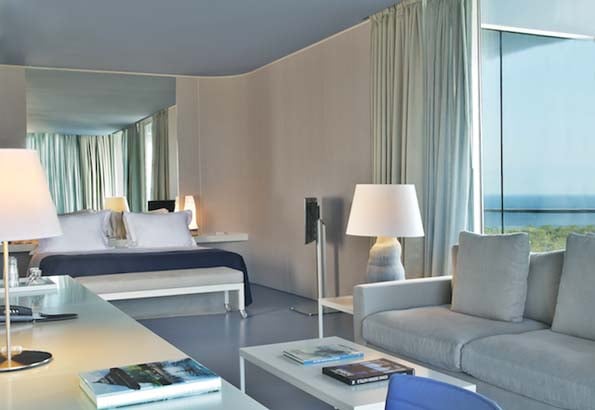 The hotel was designed by José Amaral Anahory, who was also responsible for the giant paintings and larger-than-life sculptures carefully placed around the hotel. Anahory's aim was to create a building that reflected its environment, both literally, hence the glass and chrome, and figuratively, hence the colour scheme. Internal floors, terrace, pool deck – they're all sky blue. Baths, basins, light switches, electrical sockets – they're blue too. A ribbon of cobalt carpet runs the length of the ground floor, swishing past the modern bar and lounge area, and on between the two open-plan restaurants, to a glass doorway that perfectly frames the white parasols on the terrace beyond.
Strangely, the spacious spa – which also has a pool and thelassotherapy area – is predominantly dove grey rather than blue. But the seaweed-based treatments, by an Irish company called VOYA (a Travelwrap favourite), are right on message.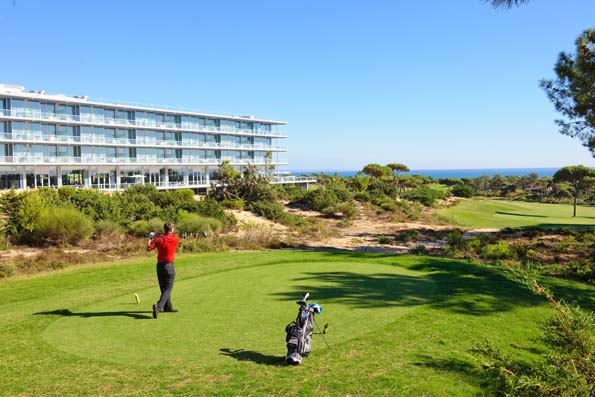 Guests are mostly, but not exclusively, here to play golf, but think panama hats rather than baseball caps (the latter are banned inside The Oitavos. Quite right, too). The hotel shop, Meanwhile, is more boho-chic than golf check; the golf club restaurant – where the sardines are cooked to perfection – has a breezy terrace overlooking the dunes.
The Oitavos won't appeal to everyone. If you believe luxury hotels should be cosy places, with antiques, log fires and squashy sofas, it's probably not the place for you. But if you appreciate clean, modern lines and empty spaces flooded with natural light, you will love it. Especially if you play golf.
Further information, The Oitavos