Colours of Mauritius
4 February 2019
February can be a gloomy month and if you feel like you need a dash of colour in your life, then SALT of Palmar, a new resort on the east coast of Mauritius, could be just the thing.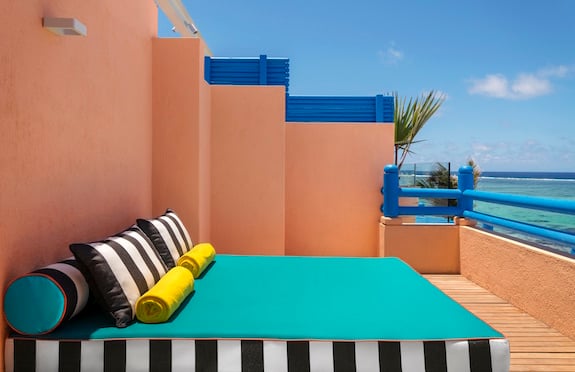 The resort, which opened late last year, is a collaboration between local architect Jean-François Adam, an award-winning visionary behind notable contemporary spaces in Mauritius and abroad, and French artist Camille Walala, whose vivid murals adorn buildings across the globe. The aim, they say, is to bring the natural environment and local Mauritian way of life to the forefront, giving guests a real sense of what the island has to offer.
Jean-François took an existing geometric, riad-like building on a beach of pure white sand and repurposed the standing structures to accentuate the hotel's proximity to the sea. As part of this, he orientated all beds to face the water and redesigned the pool to better its connection with the beach.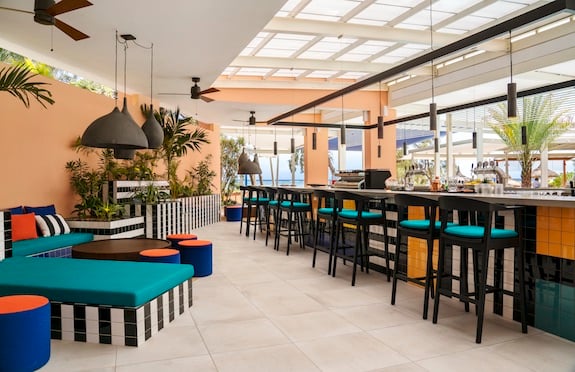 Says Jean-François: 'Everything about the hotel is designed to bring people together. From the communal tables in the bakery, restaurant and beach bar (above), to Mauritius' first roof-top bar and the inviting spaces in the SALT equilibrium spa, it is all about gathering and sharing stories of travels and enjoyment of this incredible location.'
Adds Camille: 'People paint their houses in the most amazing tones that really stand out against the lush tropical setting. When choosing the colours for SALT of Palmar I wanted to try and get a balance between natural tones and bold pop colours. The space is supposed to be fun and hero the beauty of the incredible island.'
Much of the resort's detailing has been made by Mauritian artisans: local ceramicist Janine, for example, designed and crafted the tableware; 74-year-old basket weaver Reotee Buleeram made the beautiful beach bags; and father and son Mawlabaccus and Said Moosbally made the rattan chairs featured throughout the resort. Meanwhile, the restaurant serves food made from local ingredients, with much of the produce coming from the SALT hydroponic fruit and vegetable farm and local bio-farms.
The result is a hotel that looks and feels unlike any other on the island and one that is a stunning new addition to the design landscape. B&B from around £153 per night in a double room.