The Liz Earle Wellbeing Cashmere Wrap
5 November 2021
Female entrepreneurs are front and centre these days when it comes to ethical business. Wellness guru Liz Earle and Travelwrap founder Niamh Barker are two high profile businesswomen who lead the way when it comes to developing companies with a conscience. Here they talk about their latest collaboration – the launch of the limited-edition Liz Earle Wellbeing cashmere wrap to support The Menopause Charity.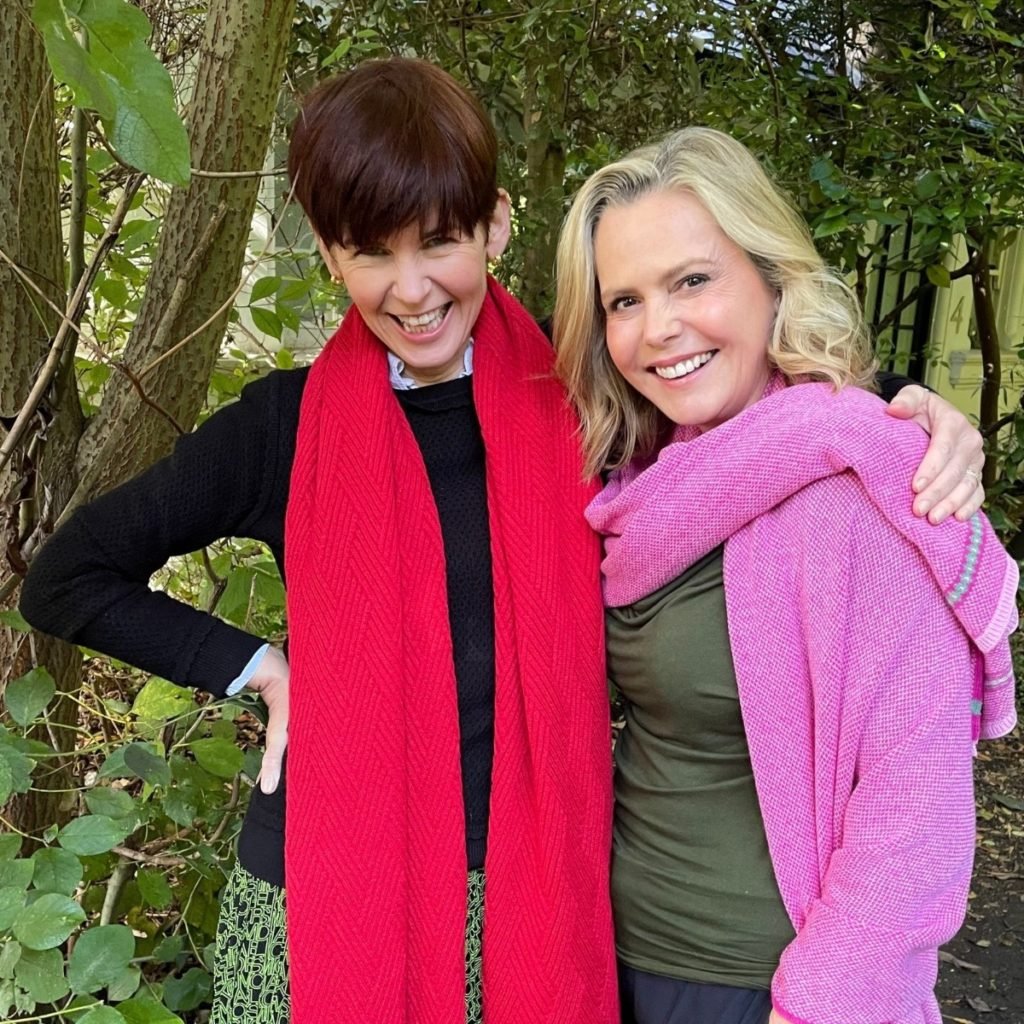 Travelwrap founder Niamh Barker is an award-wining entrepreneur with a passion for wellbeing. Niamh runs, swims, understands nutrition and is a disciple of sleep hygiene. It is unsurprising then, that she should team up with one of the UK's leading wellness gurus, Liz Earle. An earlier Liz Earle Wellbeing Travelwrap was a best-seller and calls to bring it back have never ceased, so by popular demand, it is back with a purpose.
The subject of the menopause has only recently become acceptable as a subject for open debate.  And now the door is open, Liz and Niamh want to do everything they can to bring more support to an important stage in a woman's life. Our lovely new Liz Earle Wellbeing cashmere wrap is central to that focus, with *10% of each sale going to The Menopause Charity.
Made in our world-renowned mill in Scotland, this gently flattering cashmere wrap is knitted in a gorgeous shade of pink that exudes comfort and joy. It will enhance any complexion and is sure to become a firm favourite with many women worldwide.
This pure Mongolian cashmere shawl is stunning in its simplicity. Knitted in the finest long-haired cashmere it is trimmed in a pretty Fair Isle pattern which lends it a stand-out style, while remaining quietly elegant.
A CONVERSATION WITH LIZ AND NIAMH
Niamh Barker: The Liz Earle Wellbeing wrap is a way of embracing yourself when you need a little care and attention. This cashmere shawl, made at our mill on the Scottish borders by skilled artisans, could not be more perfect. Liz and I have talked about our personal experience navigating the menopause and I wanted to see what we could do to support women.
Liz Earle: I am a big fan of Niamh, and I am thrilled we have the opportunity to work together again on this exciting project. It was important to me to work with an ethical brand. If we are to support women in a sustainable way, then we have to work in a partnership with true purpose at its heart. Travelwraps are knitted from ethically sourced yarn and last for ages. I chose this pink because I love the way it reflects warmth back onto the skin, instantly brightening how we look – as well as how we feel.
Niamh Barker: The menopause can be a challenging time, so it's important to do what we can to look after both our physical and emotional wellbeing. Cashmere wraps and shawls are perfect for providing a little comfort for when we are not on top form. And the more comfort we can bring into our lives the better.
Liz Earle: When Niamh and I first met we were starting our journey of discovery surrounding help for our menopausal symptoms – and we instantly bonded over this. It is great to see so many more people talking about the menopause but increasing numbers of women still need support. This is why The Menopause Charity is so essential, making sure that up-to-date and 100 per cent accurate information gets passed onto as many women as possible.
Niamh Barker: It was at a dinner in Scotland that Liz and I started talking about our personal experience of menopause, and some of the barriers women just like ourselves were encountering. I was so interested to hear more from Liz about her work with experts and individuals in the area. We got together not long after for one of Liz's podcasts and chatted further and openly about what we could do to support women. And here we are now. I hope everyone loves this new wrap as much as Liz and I do.
*We will donate 10% of the sale of this item to The Menopause Charity until the product sells out. Regardless of sales during this period, Travelwrap will donate a minimum of £500.