What is a blanket wrap?
11 November 2021
There are certain accessories that have become key pillars in the wardrobes of modern women. The blanket wrap or over-sized shawl – whatever you want to call it – is one of them.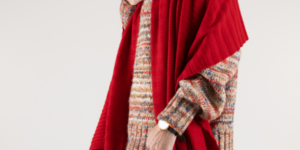 The on-trend blanket wrap has earned its place in the closets of women around the globe – young, older or somewhere in the middle – as the must-have cashmere accessory. The dramatically large, fashion shawl is now potentially unassailable in its position at the top of the style stakes with everyone from cutting edge fashionistas on the front row, to stylish mums at the school gates. It is universal in its appeal.
Substantial enough to work as investment pieces, these luxurious shawls add a touch of drama to any outfit and, when the day is done, they serve double duty as a knitted throw essential to anyone serious about lifestyle. No sofa in any well-designed living room is complete without one.
HOW TO WEAR A BLANKET WRAP
Blanket shawls are larger than most cashmere wraps – so the styling options are legion. Busy women love them because they are versatile and deliver understated glamour. Take a look at the style of Shiv Roy, star of TV's Succession, who could wear one as easily to the boardroom as she does on a family weekend in the Hamptons. These designer wraps are powerful pieces, designed to last the test of time but the fact is they exude a kind of low-key chic that still manages to take centre stage…and Shiv should know.
Our new Midnight ribbed blanket wrap is a case in point. It is a forever piece – a status achieved through a fusion of scale, design and a colour made for all seasons. This is an accessory which cannot fail – no matter what the event. Teamed with a white shirt and chinos it looks distinctly Katharine Hepburn while worn as an evening stole over a deep blue sweater dress, it will be memorable.
Key to blanket wrap dressing is texture. This is where form meets function. Texture is critical to delivering iconic style, but it also has a purpose – it adds volume which will deliver more warmth, the fine long-haired cashmere yarn knitted effectively into complex patterns which trap warmth around your body. We are exceptionally proud too of our Cardinal red cashmere wrap. This is a real legacy accessory which works as well with jeans as it does with an elegant, black evening dress. This true red cashmere shawl is knitted in chunky three-ply yarn in a lattice design and needs no supporting act.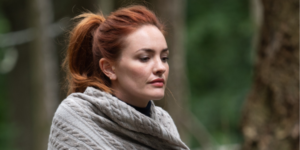 BLANKET WRAPS FOR STYLISH HOMES
The blanket wrap has also earned its place as the perfect lifestyle accessory. During lockdown our homes were our havens. We faced the challenge of Covid by investing in comfort. Curling up on the sofa became a national past-time – and if you were very lucky – you could do it wrapped in cashmere. We thought much more about how to make our living rooms the centre of our world, and lovely home accessories were an integral part of that. A chunky, cashmere throw delivered the right balance of style and cosiness.
An oversized designer shawl for women works in many ways. We have you covered.