Winter Wedding Fashion For Wedding Guests
6 November 2019
The sun may have set on the biggest wedding months of the year, but that means it's time to prepare for a new, colder season of nuptials. And while there's something truly magical about a winter wedding, staying chic in freezing temperatures is no easy task.
But an elegant cashmere wedding shawl can help. With a sumptuous texture that adds to the romance of the occasion, a wedding wrap will keep you appropriately covered, no matter how traditional the ceremony. Then, as the light begins to fade, the addition of sequins or a shimmery yarn will elevate your outfit into something extra special.
Cashmere wedding wraps can also help pull together some of the best wedding guest fashion trends of the season, from layering to colour blocking. So read on to be the best-dressed guest on the winter wedding circuit this year.
Eclectic Layering 
Summer weddings call for floaty fabrics and strapless necklines, worn to keep you cool and showcase those golden shoulders. But winter weddings require a different approach, with layering being the order of the day.
When you're mixing and matching textures and lengths, choosing from a single colour palette can keep your eclectic look co-ordinated and unfussy. Try a blush satin maxi dress worn with a dusky pink or rose gold wedding shawl for an ethereal take on the layering trend. The shimmery golden yarn in our Symphony cashmere wedding wrap will add yet more texture, but the finished outfit looks understated and elegant.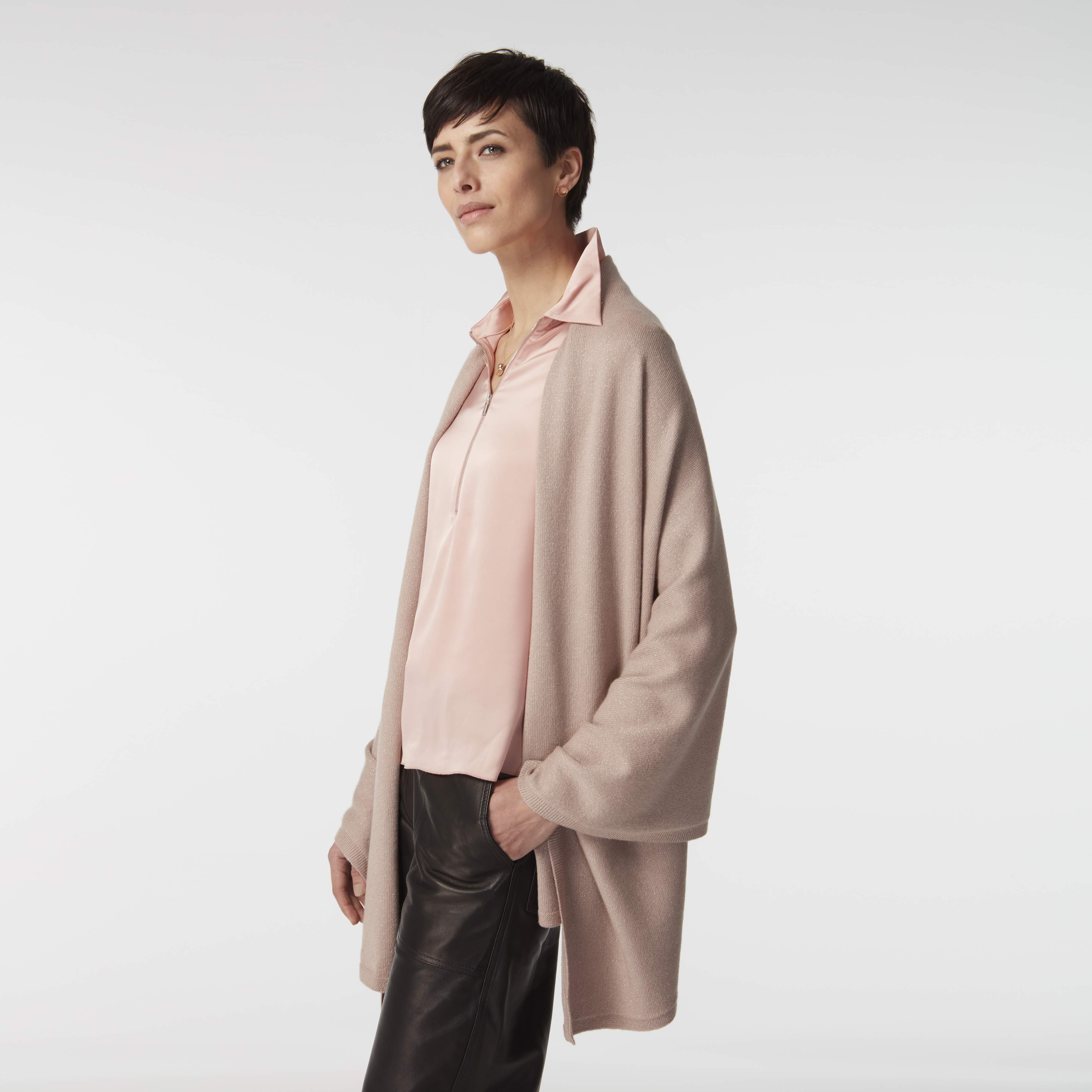 Jewel Tones
Ruby reds, emerald greens, sapphire blues… jewel tones are real fashion winter warmers this year. Opt for your favourite shade, but choose a textured version (such as a velvet, sequin or lace cocktail dress) to keep your outfit feeling festive and special.
Adding accessories in black will let the rich hue of your dress shine through. A black wedding wrap that has sequins in the yarn, such as our Stargaze sparkly black evening shawl adds more glamour to complete your on-trend jewel look.
Jumpsuits
A dress worn with thick tights isn't your only option when it comes to dressing appropriately for a winter wedding. With pleats, sequins and a variety of high-fashion necklines, today's jumpsuits are anything but plain. In fact, they're dressy enough to wear to the most sophisticated of nuptials.
 A classic black jumpsuit will always look elegant, especially when you add a pop of vibrant colour into your accessories. Colour-blocking a black jumpsuit with a vivid wrap such as our Turmeric orange shawl for a wedding will ensure you stand out in the pew.
Red
If a little black dress dress is your go-to for a winter wedding, make this the year you finally embrace its more colourful sister. The little red dress is having its fashion moment in the sun and it's easy to see why. Just as wearable as black, slip on a LRD and you'll automatically feel confident and glamorous.
Red on red is a powerful ensemble, so match your crimson dress with our red wedding shawl, Vitus. Or choose a deep red oxblood dress and wear it with a soft navy shawl for a toned-down take on the trend.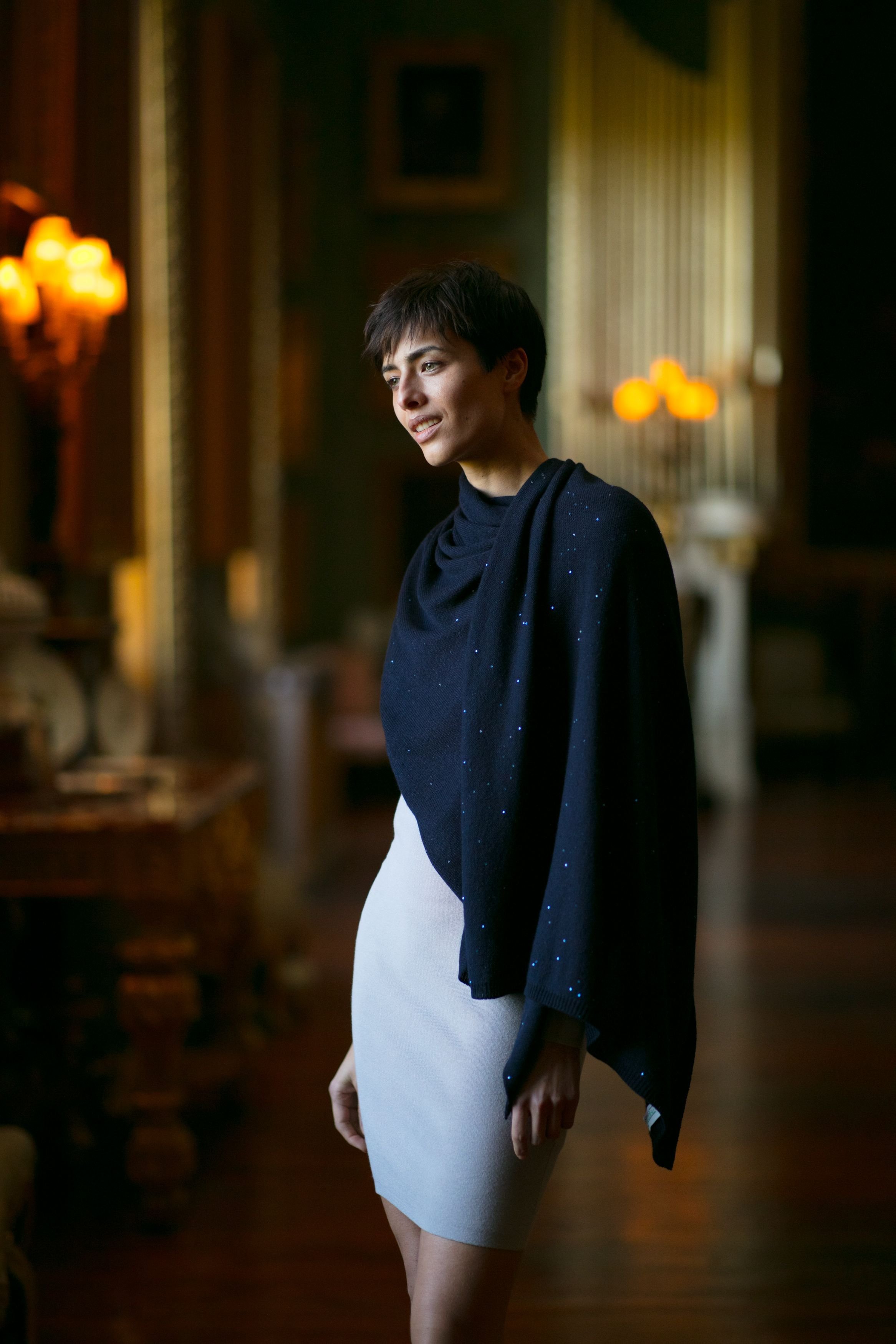 Winter Florals
Print is always a summer wedding staple, but this season's florals have been given a moodier twist that makes them perfect for a winter ceremony. Look for bewitching blooms on shades of dark silk and keep the hemline high enough to show off a pair of fabulous heels.
The colour of your winter floral dress may be muted, but the shawl you put around it should be light and soft. Cashmere and silk go so well together, so choosing a cable knit cashmere wrap like our light grey Vintage Lace shawl for a wedding will add a fashionable mix of textures to your winter wedding guest look.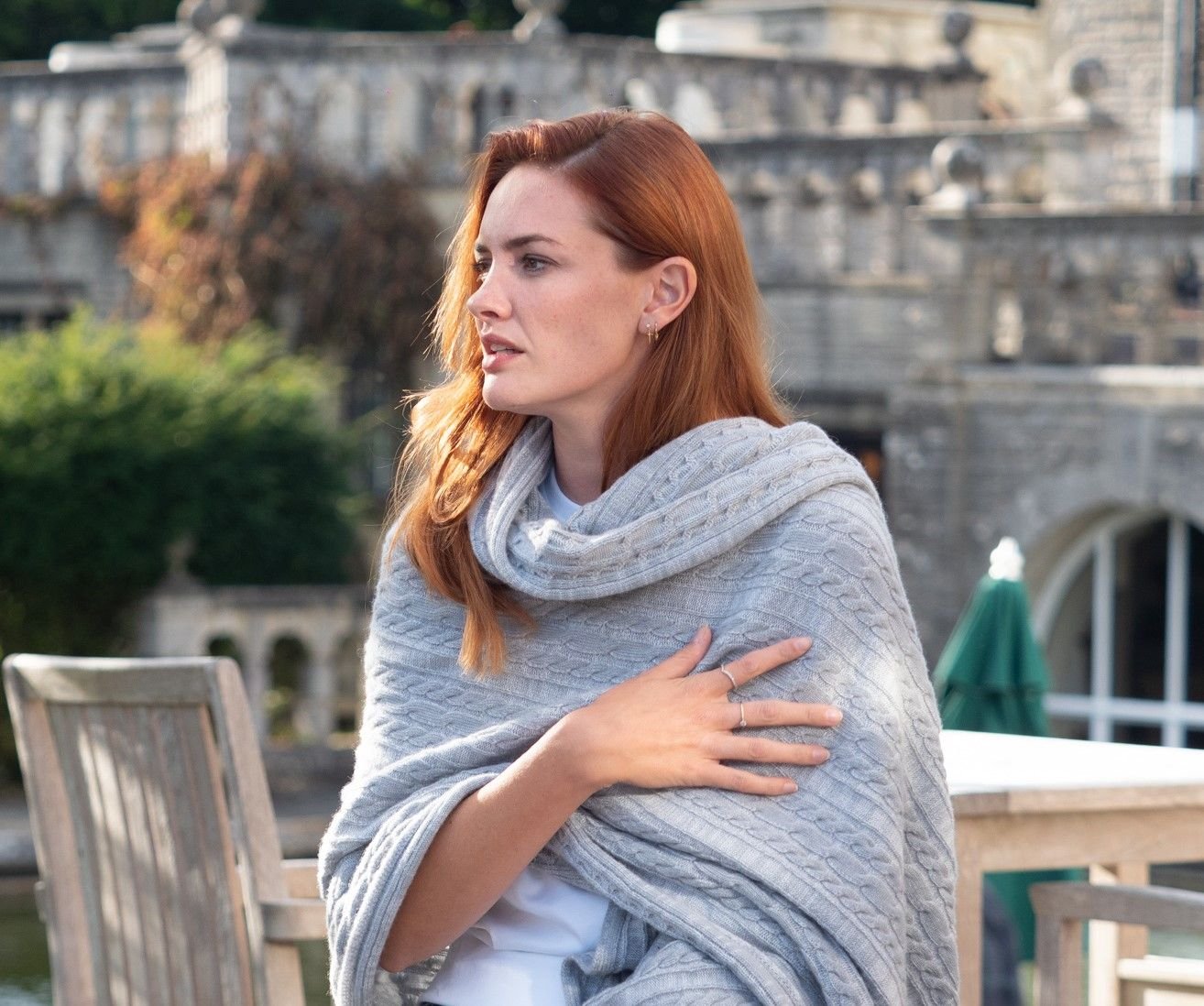 Looking for your dream wedding guest shawl? Our Shimmery or Sparkle cashmere sequin wraps and shawls will help complete your look. A member of the bridal party? Take a look at our carefully curated wedding and bridal cashmere wraps and shawls. Or shop all of our women's cashmere shawls or men's blanket scarves.