What work from home clothes should you wear while in isolation?
7 April 2020
Unless you're classed as a keyworker, it's highly likely you'll be spending a lot more time than usual at home right now. And many of us are working from home. Which begs a new dilemma for most of us: what do you wear when working from home?
It's all too tempting to resort to comfortable, old casuals – even staying in our pyjamas, after all, who's to know? (Unless of course you're on a video call…)
But is that really wise? Seasoned freelancers and home workers have long since learned that it's always better to dress for work, even if your commute is across the hall, and your only 'colleague' is the cat.
Dressing for work at home gets you into the right mindset
Dressing for work gets you into a work mindset. It also – very importantly – delineates work from relaxation time. As the Harvard Business Review's Guide to Being more Productive points out, "Unless you are careful to maintain boundaries, you may start to feel like you're always at work and losing a place to come home to."
So pyjamas are out. But what exactly should you wear? The key is to find a balance between smart and comfortable. There's no need to sit at your home desk or kitchen table in a tailored suit. Instead, aim for luxury loungewear – clothes that are comfortable (and warm – we're still in early spring) but are also elevated from those bobbled sweat pants that you've had for years.
Carefully chosen accessories can also elevate an otherwise uninspiring outfit, helping you to feel comfortable and warm, but also stylish and 'you'.
Invest in luxury loungewear to work from home
If you don't currently own work-worthy luxury loungewear, our advice is to invest in a couple of key pieces and mix them with items in your wardrobe already. Look for fits that are tailored but loose. You want some shape, but if you're sitting around for long periods, you also need give.
Also consider materials – natural, breathable materials like cashmere and cotton will be kinder to your skin (and the environment). You'll get plenty of wear from beautiful pieces right now, and well-made pieces will last longer than cheaper, high street copies.
They'll also give you a much-needed lift when they arrive at your door beautifully packaged. And if you buy from small, British companies you'll also have the comfort of knowing that you are helping to support the economy and protect people's jobs.
Our cashmere shawls are a virtual hug
Beautifully made accessories, like our sustainably sourced cashmere shawls, can also transition you from work through to chilly evenings when you're curled up in front of Netflix. Our soft, luxury shawls can be worn over a top for work video calls, and wrapped around your pyjamas for a virtual hug when you've closed your laptop for the day.
If you want to treat yourself – or someone else – to one of our cashmere wraps, here are our picks for working from home.
You'll look like you mean business in our finest 2-ply Cashmere charcoal wrap. It's smart enough for video calls, and soft enough to curl up in once work is finished for the day. Shop now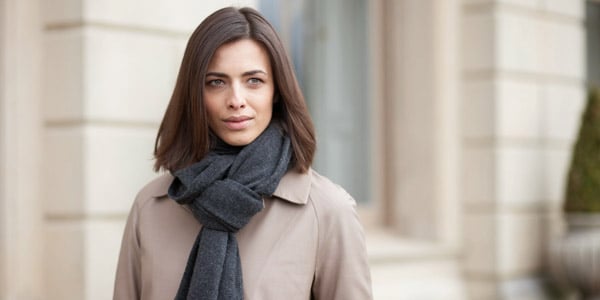 Missing being out in nature? Bring some of the outdoors inside with our classic Grasmere cashmere shawl in our signature mélange of pine green and teal.
Need cheering up? Our Mardi Gras cashmere wrap comes in contemporary vibrant turquoise, and will give an instant lift to your home working outfit. Shop now.
Love a wrap that will take you from springtime (even if you're holed inside home), right through summer (hopefully outside!)? Our pretty, yellow-green Pistache is a ray of cheery sunshine.
Want something contemporary and smart, but luxuriously soft, and perfect for chilly spring evenings? Our Herringbone Peregrine is a contemporary twist on a classic Scottish design in charcoal grey and dark silver. The close jacquard knit makes this one of our warmest wraps. Shop now
And finally, if you want to feel elegant and feminine, while keeping warm and cosy at home, our Flounce is a smooth close knit in striking magenta purple, embellished with a generous frill border. Shop now