My sister and her husband recently bought a weekend cabin in North Carolina where they live. Struck by cabin envy, I checked out what was available to rent in the UK and was surprised to find that far from being the humble chalet of yesteryear, British cabins have become so luxurious some even have a private swimming pool. Here are four of the best:
Oaks Retreat, Church Stretton, Shropshire
This contemporary cabin (above), clad in red cedar, is set beneath a canopy of oak trees in a woodland valley not far from Church Stretton. Inside there is underfloor heating and a flame fire, so no chance of being chilly, a fully-equipped kitchen and a powerful rain shower. There's no swimming pool but there is a hot tub out on the balcony. Sleeps two from £145 per night booked through TripAdvisor Vacation Rentals.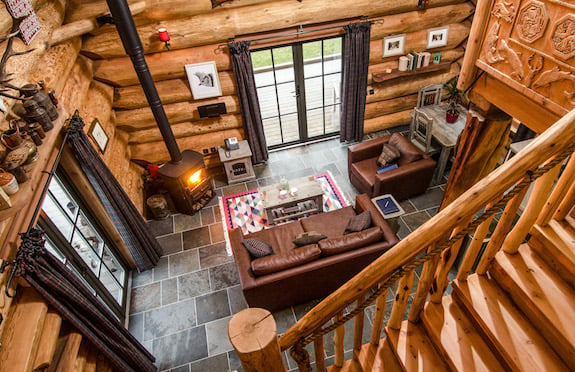 Eagle Brae, Strathglass, Scottish Highlands
Eagle Brae is a cluster of seven beautiful and virtually carbon neutral log cabins in the heart of the northern Scottish Highlands. The stylish accommodations come in varying sizes: we like one-bedroom Parus (above), where, we're told, a badger has built itself a home next to the decking. Parus has a log-burning stove and underfloor heating plus a fully-equipped kitchen and bathroom. Short breaks from £580-£725; see website for details of other cabins.
Mayo Landing, Nr Kemble, The Cotswolds
We love this little resort of eight secluded log cabins on a lakeside reserve in the Cotswolds. Each eco-friendly cabin comes with a wood burner, outdoor fire pit and decking area plus hot tub, private pier and rowing boat – but the largest, Mayo Landing, is not only set on its own island, but boasts its own swimming pool (above). Cabins don't get much more luxurious than this. Four nights from £560 for a cabin sleeping four; Mayo Landing from around £1,145 for four nights in low season; see website for full details.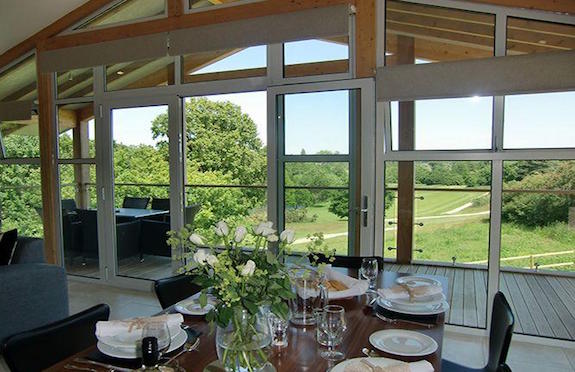 Scarlet Pimpernel, Leavenheath Suffolk
Set in one of our favourite corners of Suffolk, overlooking Constable Country, this large cabin is actually two self-contained apartments which can be let together, making it perfect for two families. Each of the two floors has a spacious open-plan living, kitchen and dining area with floor-to-ceiling windows and large balconies. One of a number of cabins on the same site, Scarlet Pimpernel has access to a spa, two championship golf courses and a shared outdoor pool. Sleeps up to eight from £350 per night through TripAdvisor Vacation Rentals.
BY MAGGIE O'SULLIVAN