A summer night at the movies by Maggie O'Sullivan
3 August 2015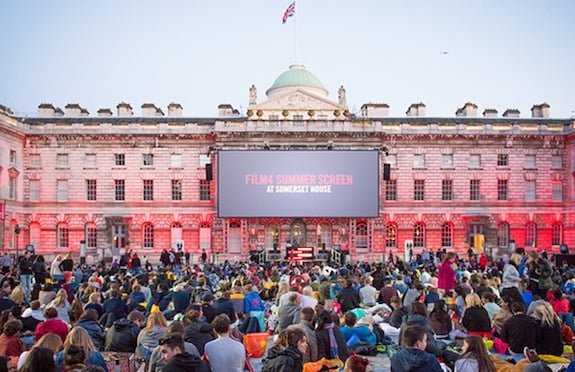 August is outdoor cinema season. That we can now enjoy Top Gun under the stars, or Grease by moonlight, is mostly down to former actor George Wood who founded The Luna Cinema, in 2008. His idea to set up a roaming pop-up cinema was such a success that this summer his company will screen more than 100 movies in venues right across the UK.
What makes the perfect outdoor movie? Something you don't have to pay 100 per cent attention to. Blockbuster movies like Dirty Dancing or Mamma Mia! that are fun to watch with a picnic and a glass of wine. Here's where we'll be getting our movie fix this summer:
Somerset House's 11th open-air cinema season kicks off on Thursday with Gemma Bovary. The very popular two-week programme includes a mix of classic, cult and contemporary movies, but the magical courtyard setting (above) is every bit as important as what's on the screen. Some of the screenings will be introduced by the film's stars and directors. A few tickets remaining. August 6-19; from £16-£24 plus booking fee.
Osborne House was Queen Victoria's Italian Renaissance-style holiday home (she kept a bathing machine on the private beach below the gardens). It's now run by English Heritage and it's well worth going early to explore the house and gardens before the movie starts. There are three screenings this month: Imitation Game on August 19, Back to the Future on August 19 and Grease on August 21. Capacity is limited so book early. £13.50-£26.
London's much-loved open air theatre becomes an open-air cinema for just two nights, showing Some like it Hot on August 16 and Jaws on August 23. What could be better than a picnic and Steven Spielberg's cheesy blockbuster on a summer's evening? From £16-£30.
Powderham Castle, Devon
Powderham Castle, just outside Exeter, is the 600-year-old ancestral home of the Earl and Countess of Devon. Powderham has featured in several movies itself, including The Remains of the Day, but this is the first year it has offered open-air screenings. It has chosen well: Dirty Dancing on August 28, Mamma Mia! on August 29 and Top Gun on August 30. £13.50-£26.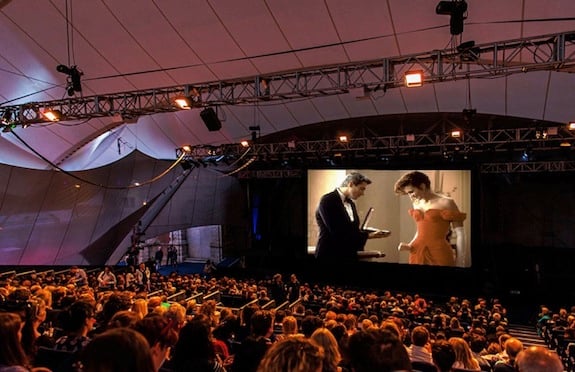 Opera in Holland Park, London
For three evenings this lovely park will host London's only pop-up cinema in an opera house. You won't need to worry about the weather as the auditorium is under cover; and you won't need to bother with a picnic either as there will be a number of food options, served from a selection of vintage vehicles. Choose from The Great Gatsby on August 5 , Some Like It Hot on August 6, Jaws on August 7 and Pretty Woman on August 8. From £10-£27.50.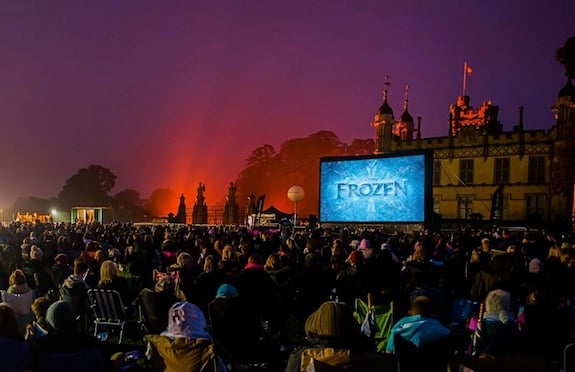 Knebworth, Herfordshire
Knebworth is famous for its rock concerts, but for two evenings in September it will be the audience doing the singing: there's a Frozen sing-along on September 11 and a screening of Mamma Mia! on September 12. Can't sing? Go Back to the Future on September 13. £13.50.